Styles & Settings:
A Guide to Making Your Pink Diamond Dazzle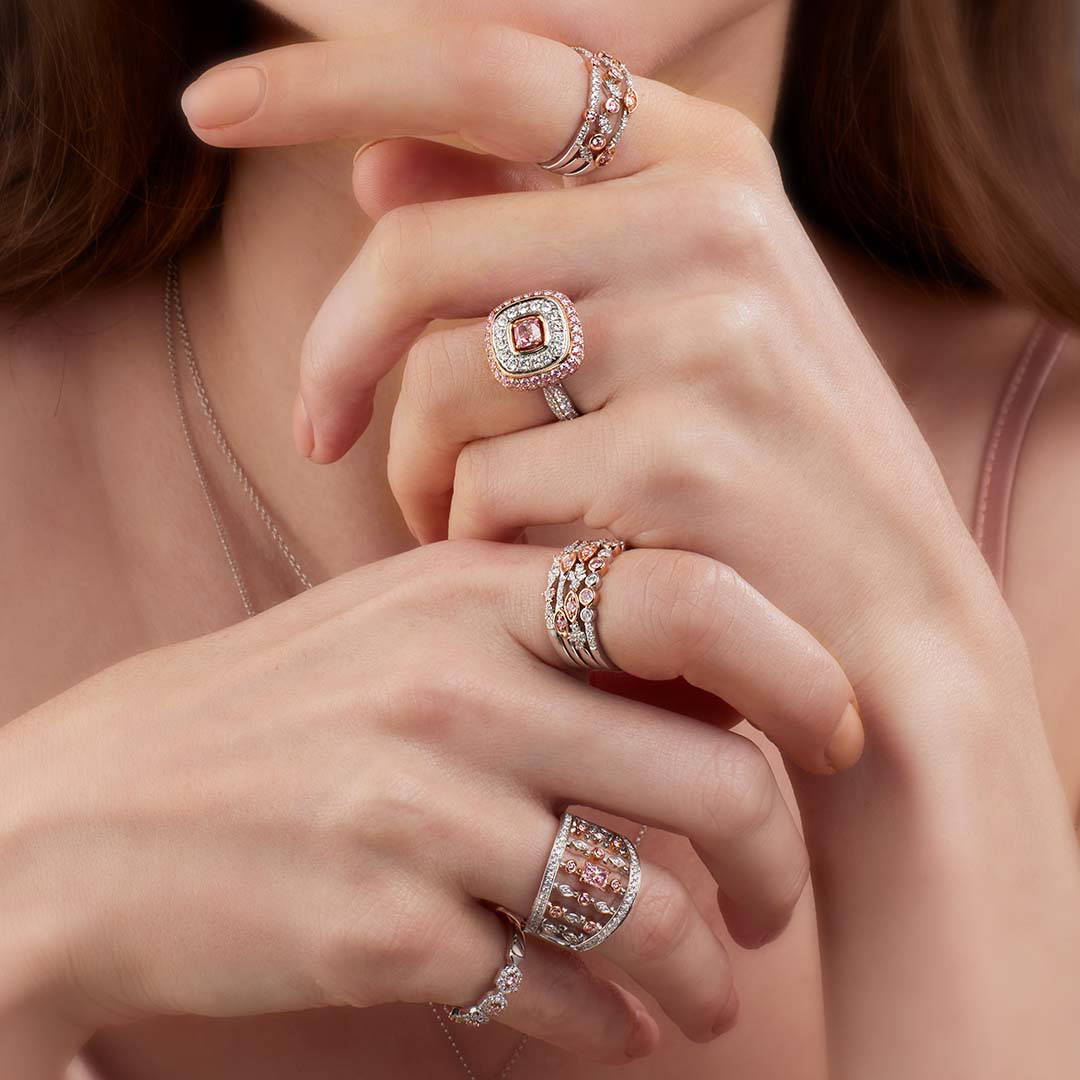 A feminine stone that's coveted globally for its beauty and rarity, there's nothing quite like the pink diamond. And while many believe that shape, size and carat are everything, we're here to bring something else to the mix: Ring settings.
But what setting is best to give your diamond the greatest chance to shine?
Stunning from every angle.

Technically, a ring setting describes how gemstones are mounted, or held in place. While some ring settings use minimal metal for a light, elegant feel, others use additional metal for a more intricate approach. For us, each setting presents pink diamonds in a unique way, whether through a low profile or by raising the diamond to place it centre stage.
We often talk to clients who are confused about the difference between ring settings and ring designs. The latter describes the overall look of a ring, rather than the mechanism that holds the diamonds in place.
For this guide, we'll refer to ring setting in an overall sense - from how gemstones are mounted to how they're laid out.
The most popular ring settings for Pink Diamonds

Prong Setting
Tiffany Setting
Cathedral Setting
Bezel Setting

The most popular setting for an engagement ring. Slim arms cradle the edges of the diamond. The stone sits high above the band, so light can enter and exit from every angle for maximum sparkle.

Conceptualised by Tiffany in 1886, this is a six-prong setting that holds a round diamond. Maximum light gives the stone incredible brilliance, for all eyes on your finger.

Classic and sophisticated. Sweeping arms travel from the shank to the centre stone, for a striking look inspired by Gothic architecture.

A pink diamond setting that keeps growing in popularity. This is a modern, clean look that securely holds gemstones in place with a thin metal rim.

 
Halo
Pavé
Solitaire
Three-stone

A pink diamond halo ring features a centre stone surrounded by a halo of smaller diamonds

When extra sparkle is in order, a pavé ring showcases a path of diamonds set across the band. All stones fit into small holes to place them level with the ring's surface.

 

The perfect proposal. A pink diamond solitaire ring focuses all attention on a single, stunning blush diamond.

Usually a raised centre diamond with slightly smaller stones on either side. The side stones become accents and provide perfect colour play opportunities.

 
What pink diamond setting is popular in Australia right now?
Pink Diamonds are a girl's new best friend.

At Pink Kimberley, we mostly create one-of-a-kind rings. Trends come and go, but we believe the perfect ring always comes down to the individual.
If you're seeking a pink diamond ring with longevity, our Blush Pink collection, which includes repeated designs, has always been popular.
Long-time loves among our customers include the Blush Eloise Ring and Blush Amelia Ring, which are both pink diamond halo rings. The Kimberley Chloe Ring and Kimberley Belle Epoque Ring are luxurious pink diamond settings that have long been on the wish lists of our in-house team members.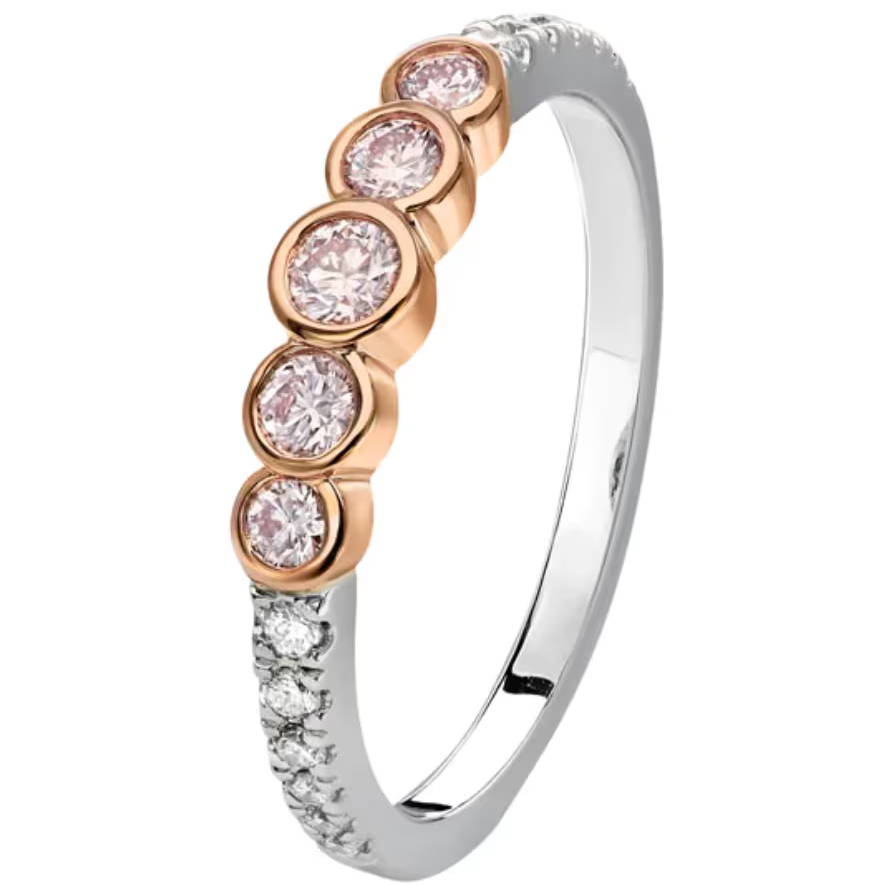 Meet the most expensive pink diamonds in the world
"There are two kinds of diamonds in this world: The diamond itself, and the eyes full of love." -Mehmet Murat Ildan, Turkish Playwright
So how much is a pink diamond worth? That depends. The colour scale of pink diamonds ranges from Faint Pink to Fancy Dark Pink, and the more vivid, the higher the price tag.
Red diamonds aside, high-quality pink diamonds are the most expensive natural diamond colour available today. The blush stones we love so much at Pink Kimberley tend to rise by 20-30% in value each year.
Lately, we've been lusting after "The Sakura" (named after Japan's cherry blossoms), a pink diamond ring that sold for USD $25 million in 2021. It's a three-stone setting consisting of a pink centre diamond and two white diamonds.
The most expensive pink diamond in the world, though, is the CTF Pink Star. It sold for just over USD $71 million in 2017. Boasting 59.60 carats (about the size of a strawberry), this is truly a diamond that mesmerises.
Source: Christie's
image source: https://www.diamonds.pro/education/pink/
What's the best setting to let your pink diamond shine?
"A classic design that never ages." - Pink Kimberley
The best pink diamond setting is one that lets your stone shine at its brightest. At Pink Kimberley, we've always advocated for a classic design that never ages: We believe a contrast between a pink and a white diamond is the best way to go. You could have a smaller 0.20-0.25ct pink diamond in the centre surrounded by a white diamond halo, and the results will always be spectacular.
There's a common myth that carat weight is the thing that makes diamonds look bigger. We're here to dispel that myth. In fact, the quality of the diamond's cut along with its weight distribution and the chosen setting usually determine how well a pink diamond is presented.
Start with our quick tips for the best setting for pink diamond rings:
Make a light pink diamond look more vivid by surrounding it with rose gold prongs.

Accent the centre diamond with white diamonds, using a three-stone setting on a white gold or platinum band.

If you're working with a lower budget, add pink diamonds in a halo setting around a colourless diamond centre stone. (Bonus: A halo setting is an incredible technique to make a ring look bigger.)

Contrast your pink diamond with other rare colours, such as green.

Play with pink pavé stones if a large pink diamond isn't in the budget but you still want to capture the romance of pink stones.

When new styles come out, our customers always find new ways to stack them. Try this to create a striking look that's yours and yours only.
In good company: Celebrities & their pink diamonds
"It's hard to be a diamond in a rhinestone world." - Dolly Parton
Pink diamonds are rare, even in comparison to other fancy-coloured stones. We've spotted pink diamond rings on the hands of celebrities from Blake Lively to Victoria Beckham.
Blake wears a 12-carat engagement ring with an oval-shaped pink diamond and smaller white diamonds across the band.
Victoria received a pink oval-cut diamond in a halo setting for her 30th birthday. According to the media, it's just one of 15 engagement-style rings she owns.
How to choose your perfect pink diamod
Searching for the perfect ring settings for your loose stones, Australia? To get there, you've got some decisions to make. 
Consider:
The centre stone (shape and size)
Number of prongs (more prongs may feel more secure)
Your daily lifestyle (how active are you?)
Your budget (our rings range from $1,000 to $400,000, so there's something for every budget)
Your personal taste (pink diamond solitaire rings vs. halo rings, for example)
Your goal (maximum height and sparkle, or something low-profile that won't snag on clothes?)
Luckily, you're not alone. At Pink Kimberley, we guide our clients to create the perfect ring, whether you're looking for an engagement ring, a wedding ring or a fashion piece.

We'll always showcase our newest and most popular designs - from the exotic Kimberley Aurelia to our blush engagement rings that make pink diamonds accessible to just about everyone.
New Pink Diamonds you won't want to miss
Romance, elegance and femininity rolled up into a stone you can wear.
| | |
| --- | --- |
| Kimberley Madeleine Ring | Kimberley Guinevere Ring |
| | |
Explore ring settings for loose stones in Australia
Got some loose pink diamonds you'd like to transform into a ring sparkling with romance and elegance? Or just want to browse our latest pink diamond collections?
Only use a trusted jeweller when you purchase pink diamonds, like Pink Kimberley. With our supply of ultra-rare pink diamonds from the Argyle diamond mine, and our commitment to crafting pieces of jewellery that are like works of art, you know you're in good hands.
Simply book an appointment to start your exciting pink diamond journey, or make a secure purchase online.