Styling Pink Diamond Jewellery for Your Holiday Events
Are you finding that your social calendar is starting to fill up or Mariah Carey is frequently blaring in your local supermarket? There's only one reason these are happening - the holiday season has officially arrived! There's never been a better time to stun family and friends with your most fabulous look at your Christmas and New Year's events. If you're shopping for new jewellery pieces to create the perfect holiday lookbook, pink diamonds are your best friend this season.
Hailed as the favourite colour of spring and summer, hot pink has been dominating the runways, red carpets, and fashion campaigns all year long. Stay on track with the latest fashion trends and fill your wardrobe with pink-toned outfits; while you're at it, why not bolster your wardrobe colour scheme with matching jewellery pieces? Pink diamonds will undoubtedly enhance your pink outfits and are versatile enough to complement any outfit that belongs to the same colour family. In addition, pink diamonds are timeless investment pieces that transcend any season and add significant value to your personal portfolio.
If you're planning to wear the best jewellery pieces in your collection, you must ensure that you can show them off in their best light. Keep reading our guide to learn the 4 best ways to choose the best pink diamond jewellery pieces and coordinate them to create stunning, unforgettable looks.
1. Pick the right outfit style and colour
For example, if you're looking to wear a statement pendant necklace, you need to choose an outfit with the right cut. In this instance, a top or dress with a plunging neckline would be suitable for displaying your diamond necklace. After choosing the outfit style, the next step is matching the outfit colour with the tones of your diamond. If you love vibrant colours, pink diamonds are usually compatible with red, orange, and yellow tones. Other than that, pairing your pink diamond jewellery with a black or white coloured outfit is always a safe option that creates a timeless look.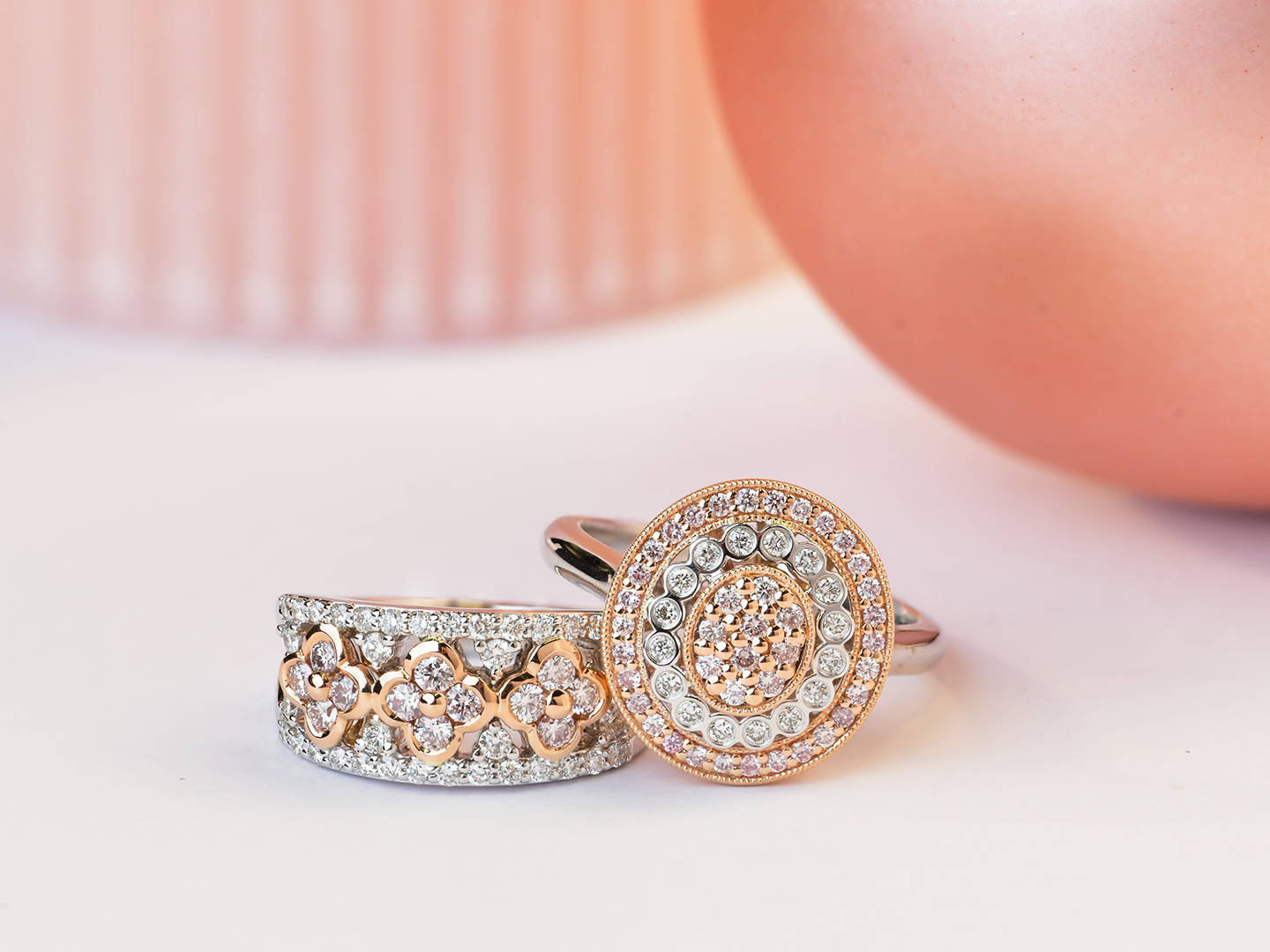 2. Use statement earrings to frame your face shape
Whether it's to bring out your eye colour or perfectly compliment an updo, statement earrings are the perfect accessory to highlight your best features. However, some earring designs are only suitable for particular face shapes. For example, those with round face shapes can use drop earrings to elongate their face, while those with square face shapes may lean toward rounded earrings to add more volume around their cheek area.
3. Pair your pink diamond jewellery with other pieces for a cohesive (or experimental) look
Pink diamonds are versatile jewellery that you can combine with most jewellery pieces. Don't be afraid to pair your pink diamond pieces with your other gemstone jewellery or even mix different metal colours. One thing that you should always remember is to make sure that the sizes of your jewellery pieces are compatible with each other. For example, if you wear statement earrings for your event, your necklace needs to be in a similar size to create balance.
4. Match the jewellery with your hairstyle of the night
Your chosen hairdo for the night has a significant impact on the jewellery pieces that you wear. For example, if you're wearing your hair up, you should go for bigger earrings, but if you're wearing it loosely, dainty and small earrings would be more suitable. The same thing applies to your necklace. If you're planning to wear your favourite pendant or long chain necklace, an up-do hairstyle is the best way to show off your decolletage.
Shop Argyle pink diamond jewellery online at Pink Kimberley
Our high-grade pink diamonds, stunning designs and unmatchable craftsmanship will illuminate your holiday events with an incandescent glow. From romantic pieces with floral settings to traditional halo-style pieces, you can discover a piece that suits your personal style in our online catalogue. Don't hesitate to contact our team with any questions about pink diamonds or book an appointment to view our best pieces in person.