What Makes Pink Diamonds a Must-have Statement Piece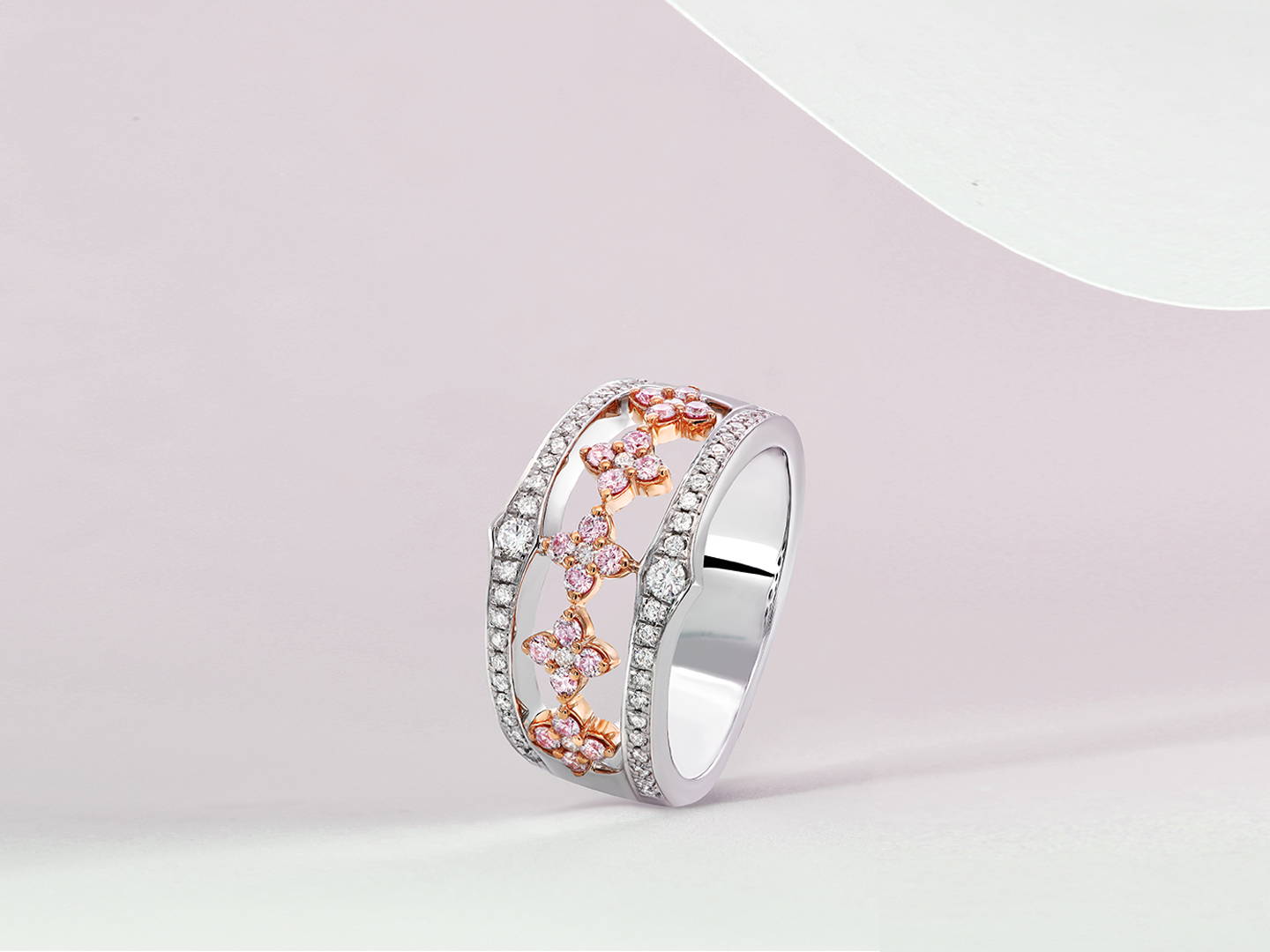 Pink diamonds make a highly valuable investment piece, but maximising your return isn't the only benefit they can offer. With their unique colour tones and exceptional brilliance, pink diamonds add the perfect finishing touch that enhances any outfit. So don't hesitate to take your pink diamond jewellery out of your jewellery box and include them in your next outfit ensemble.
We recommend having at least one piece of diamond jewellery in your personal collection. When they're styled well, pink diamonds make a great accent to the rest of your look. You can wear them as a standalone statement piece, a subtle addition to your outfit, or even pair them with your other jewellery pieces. However, depending on your personal style and the event you're attending, there are different ways to wear your pink diamond jewellery. Keep reading our guide to learn the best ways to style pink diamonds with various styles within (or beyond) the fashion spectrum.
If your go-to outfit is a monochromatic basic top and plain trousers, pink diamond jewellery with simple designs and settings would be more suited for you. For example, you can consider rings with a single pink diamond set in the centre, tennis bracelets, or stud earrings. Subtle yet exciting, you can easily add extra colour to your look while expressing your flair for minimalism.
Are you someone who likes to be playful and experimental with your outfits? Just because your wardrobe is filled with bright colours and bold patterns doesn't mean you shouldn't add an extra touch of drama with pink diamond jewellery. But there are a few things you need to keep in mind to ensure that your look stays cohesive.
The pink tone in your jewellery should belong in the same colour family as your outfit.

Choose a size of jewellery that compliments your outfit.
Our Kimberley Ivanna Ring is beautiful and bold, however, due to the value of pink diamonds, a piece like this can have a higher price. If you are looking for a more affordable pink diamond piece which is just as vibrant, look no further than the Blush Jordyn Necklace is sure to wow.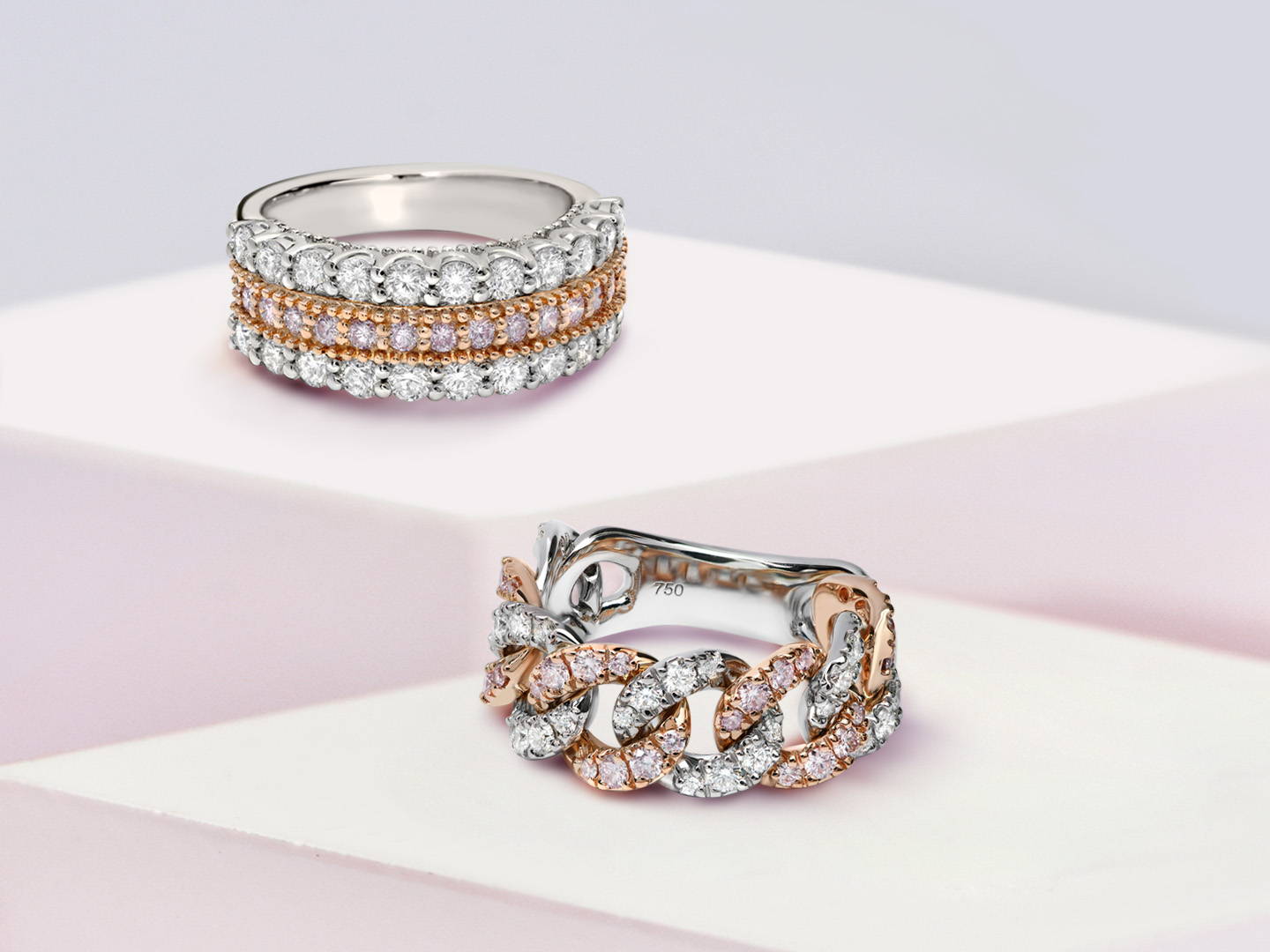 Diamond jewellery may be associated with a more traditional, classic style, but that doesn't mean you can't take matters into your own hands and create a contemporary style that is uniquely yours. Diamonds work well with most gemstones. You can always refresh your jewellery collection by stacking up your rings, combining multiple hoop and stud earrings, or layering your bracelets or necklaces. For a twist on a classic wedding band style, the Blush Mirikel Ring features three bands of sparkling diamonds, showcasing the luxury of pink diamonds.
There's no better time to flaunt the best jewellery in your collection than to wear it to a formal event. You can simply wear a pair of diamond drop earrings and a singular-chain pendant necklace to create an elegant and sophisticated look. A subtle accessory with the power to grab attention, diamond jewellery with classic settings will complement your look for the night without overshining your outfit.
Choose unique Argyle pink diamond jewellery from Pink Kimberley's online catalogue

The rarity and beauty of Australian pink diamonds make them an exceptional choice for jewellery lovers. Our online catalogue includes an eclectic mix of jewellery designs and settings - shop online at Pink Kimberley today and discover the piece that speaks to you the most. If you have any questions about our pieces, please contact our experienced team, and we will offer professional and personalised advice that accommodates your needs.