Why Choose Sparkling Heart-Shaped Pink Diamond Jewellery for Her?
Have you been searching for the perfect gift for the special woman in your life? You've arrived at the right place! At Pink Kimberley, we have bespoke heart-shaped pink diamond jewellery that will leave her in awe. Stunning and meaningful, our jewellers' excellent craftsmanship creates a breathtaking combination of those two elements in the form of exquisite jewellery pieces. The heart shape symbolises love and affection, while pink diamonds represent romance, femininity, and grace.
In this blog post, we will delve deeper into the various designs available in heart-shaped pink diamond jewellery, and learn why they make an excellent addition to any jewellery collection.
What Makes Heart-Shaped Pink Diamond Jewellery Unique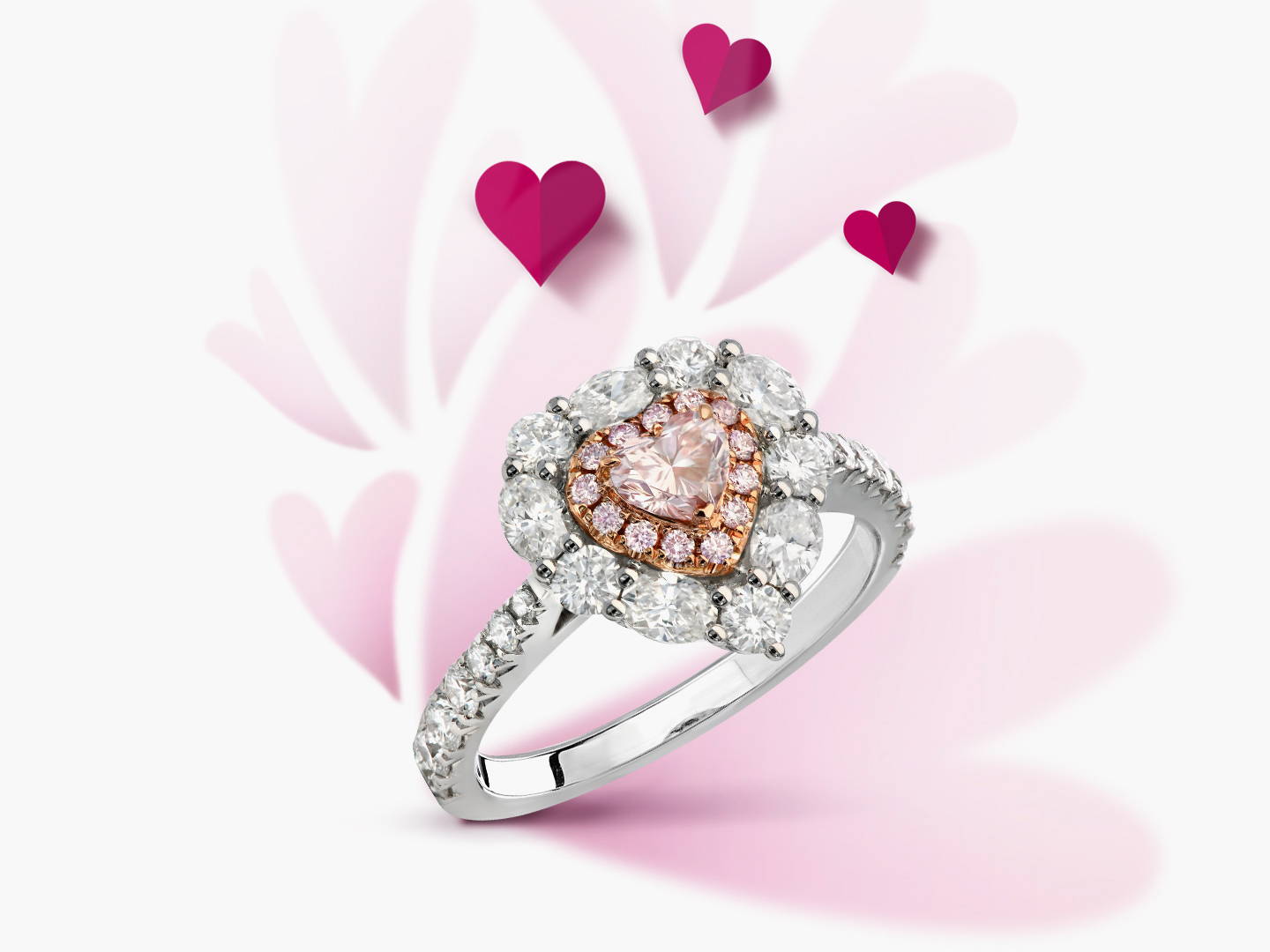 Heart-shaped pink diamond jewellery is a unique way to express your love and affection meaningfully. The heart shape is a universal symbol of love and devotion; when paired with the soft and delicate hue of pink diamonds, it becomes an enduring expression of passion. Pink diamonds are rare, especially after the Argyle Diamond Mine in Western Australia closed in November 2020. Their limited availability makes them even more precious. Crafting pink diamonds into heart-shaped jewellery pieces adds an extra touch of uniqueness that makes them all the more special.
Types of Heart-Shaped Pink Diamond Jewellery Available at Pink Kimberley
Rings
There's no better way to create a lasting impression than a striking heart-shaped pink diamond ring. At Pink Kimberley, you can find heart-shaped rings in big and small settings, allowing you to choose the perfect style that matches your loved one's personality.
Our big heart-shaped diamond ring, the Kimberley Amora Ring, is a bold statement piece that will catch the eye of anyone in the room. A large pink diamond in a heart cut is set in the centre, and the heart shape is accentuated by halos of smaller diamonds surrounding it. With such an intricate design and refined details, this pink diamond ring will be a treasured piece in your jewellery collection. If you have a penchant for rings with unique configurations, you can also opt for our art-deco inspired ring, the Kimberley Adelina Ring, set with a mixture of pink diamonds and heart cut white diamonds.
Meanwhile, our small heart-shaped diamond ring is a delicate and subtle choice for those who value a minimalistic style. Timeless and elegant, our Blush Yuriko Ring offers just the right amount of sophistication without overwhelming your daily look or taking away from your personal style.
Pendants
Our heart-shaped pendants are stunning pieces of jewellery that can complement any style. At Pink Kimberley, we offer various designs of heart-shaped pendants. For those who prefer a simple and elegant look, our Blush Heartland Necklace is the perfect piece featuring a delicate blend of natural Australian Argyle pink diamonds with fine white diamonds set in a heart-shaped setting. Or for a more dramatic and eye-catching piece, look to our Kimberley Steadfast Heart Necklace showcasing a row of brilliant white and pink diamonds set in a heart shape.
Stud earrings
Dainty and delicate, our heart-shaped stud earrings are perfect for those who appreciate the clean and understated aesthetic. Made with a simple and classic design, our Blush Yuriko Earrings feature a single pink diamond set in the centre of a beautiful heart-shaped setting. The size of these stud earrings makes them suitable for everyday wear, and the timeless design makes them an excellent addition to your jewellery collection.
Argyle pink diamond stones with certificates
Known for their exquisite quality and rarity, Argyle pink diamonds also make a popular and strong investment asset. Browse our outstanding range of heart-shaped Argyle pink diamond stones, each accompanied by an original certificate and laser inscription to guarantee its authenticity and quality. Whether you want to store it in your personal collection or use it to design a bespoke jewellery piece, our Argyle pink diamond stones are valuable for any jewellery collectors.
Explore a beautiful selection of heart-shaped pink diamond jewellery at Pink Kimberley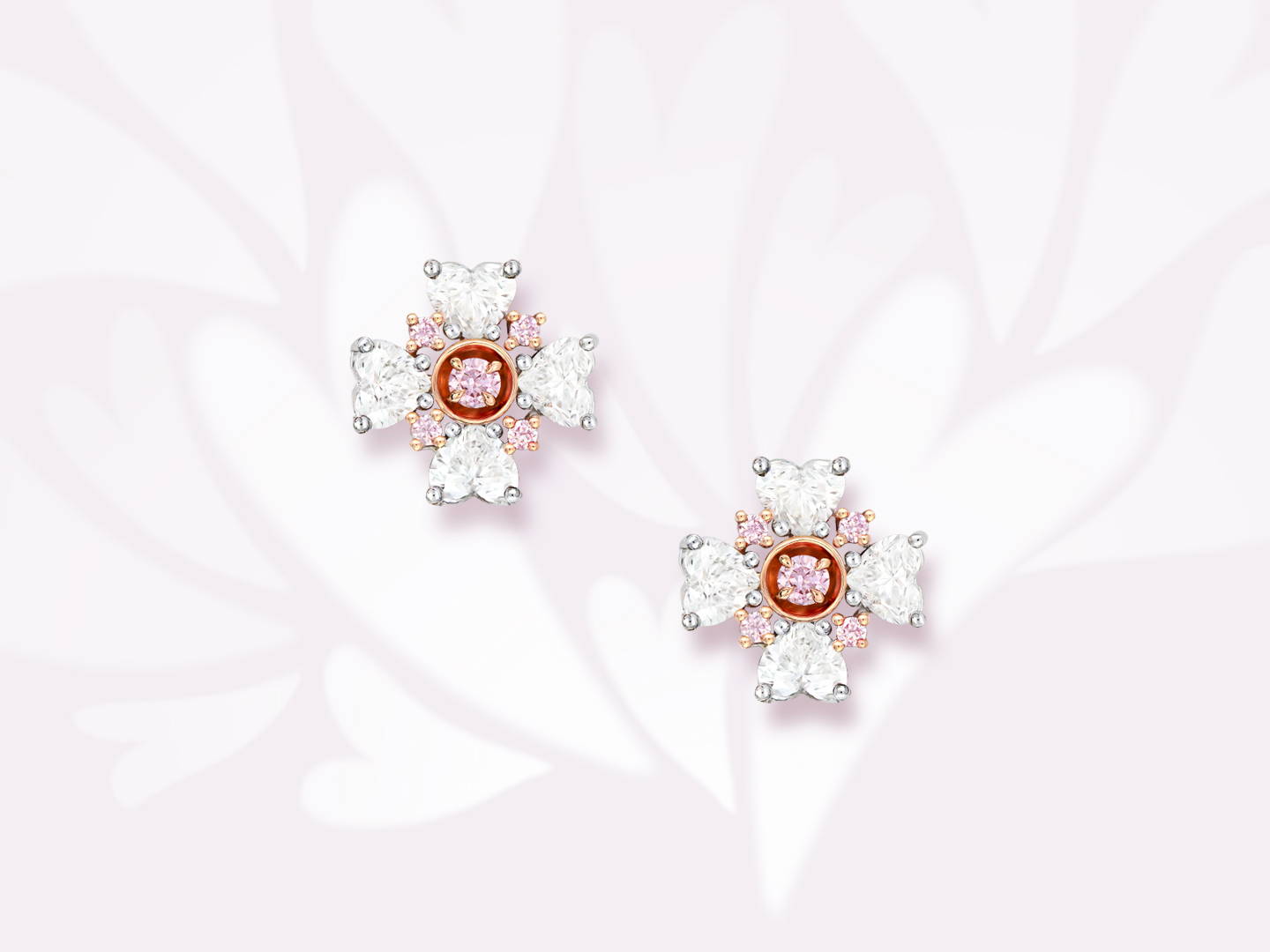 Are you ready to discover a collection of exquisite heart-shaped pink diamond jewellery? Look no further than Pink Kimberley! Our collection features an assortment of stunning designs, each crafted with the utmost attention to detail by our talented jewellery designers. Whether you're looking for a statement and glamorous piece or a chic and sophisticated piece, our pink diamond jewellery is perfect for adding a touch of luxury and elegance to any outfit. Get in touch with our expert team to learn more about available pieces at Pink Kimberley today!