The Best Ways to Wear Pink Diamond Jewellery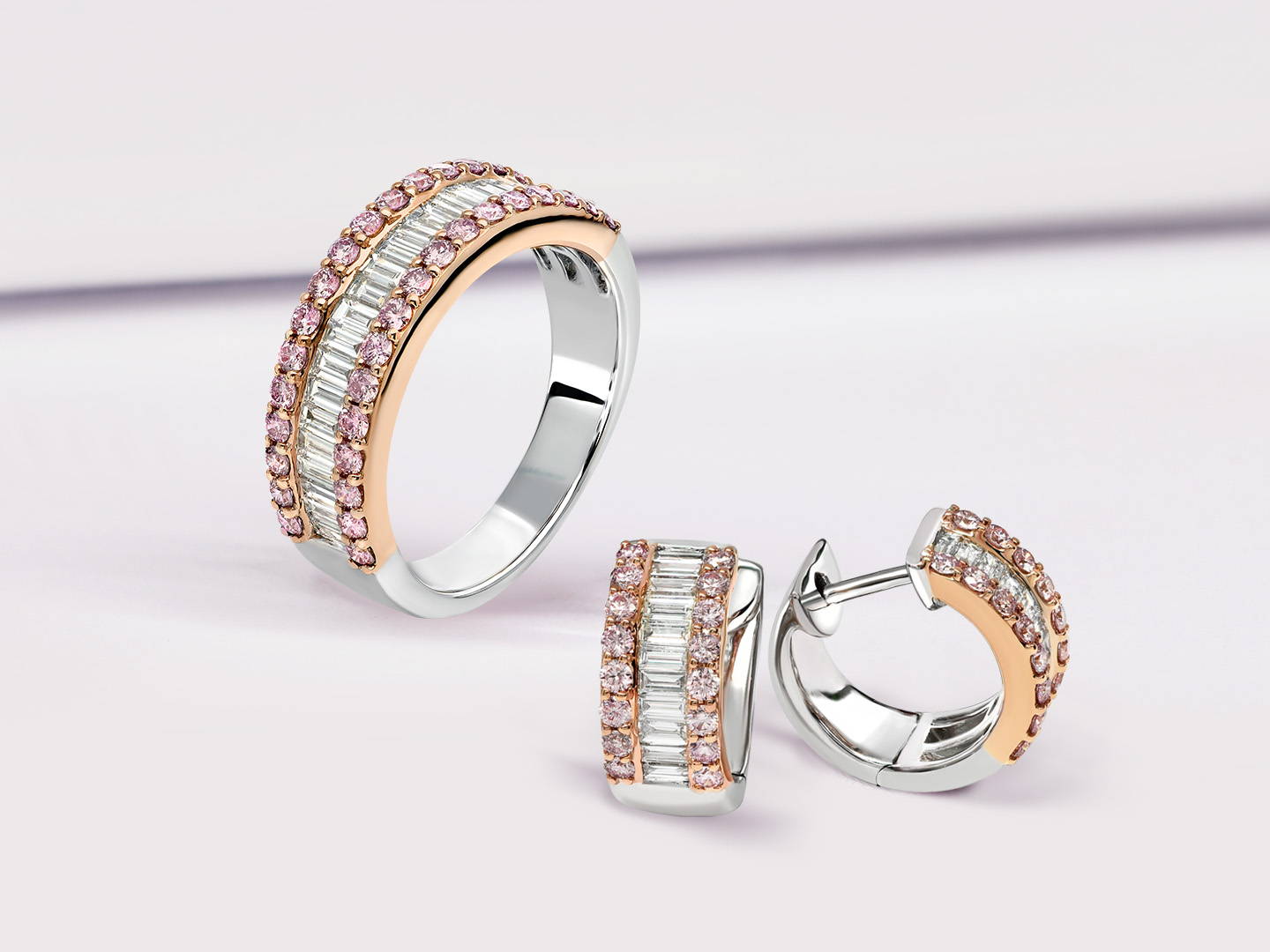 We're living in a world where fashion trends seem to change every other day, so the temptation to splurge on the trendiest items is always in the air. However, you can never neglect the importance of timeless and classic pieces such as luxurious, one-of-a-kind diamond jewellery. The variations of cuts, shapes, and colours that diamonds can offer make them the perfect jewellery piece to accentuate any style or outfit.
Keep reading to learn the best ways to wear your pink diamond jewellery for your day-to-day activities or special occasions.
Diamond rings for daily wear

The power of diamonds lies in their ability to radiate a brilliant shine even as a standalone piece of jewellery - especially pink diamonds. The brilliance and vibrancy of pink diamonds make them better suited for outfits with neutral colours (black, white) or colours that compliment the red tones within pink diamonds (yellow, orange). To elevate your daily style, choose an exquisite, bold ring from our trilogy or halo collection, and wear alone. Alternatively, for a trendy, minimal look, filter through our stackable ring collection to find a selection of simple designs which can be paired together and personalised. Another factor you need to consider before wearing your jewellery on a daily basis is the durability of your piece. It's important to ensure that the setting of your diamond jewellery is designed to withstand everyday wear and tear, like every piece at Pink Kimberley, crafted in 18ct Gold.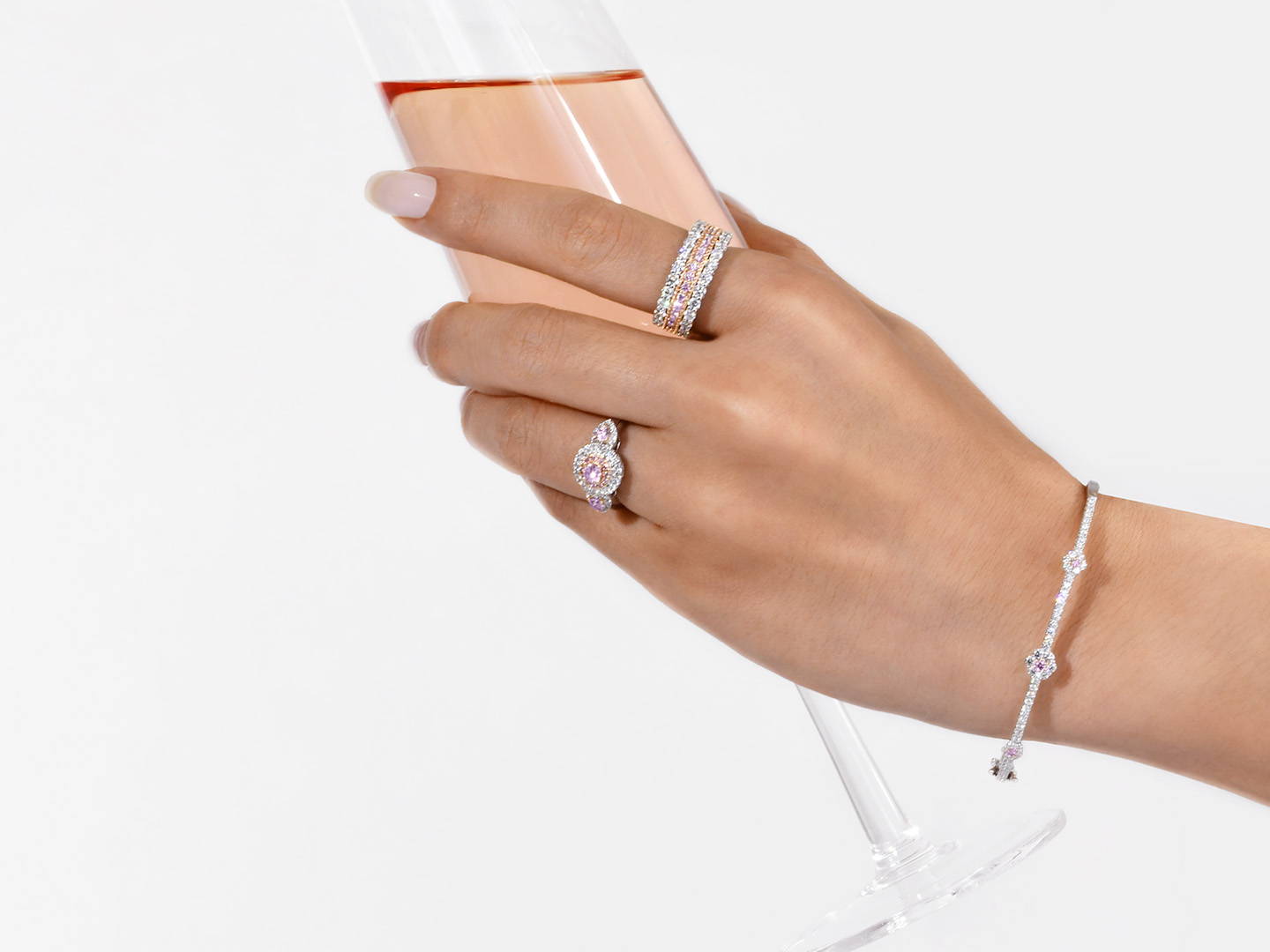 Statement diamond jewellery for special occasions

Pink diamonds are powerful enough to illuminate your look with an incandescent glow from the everyday, to special occasions. Commemorate special events in your life with a symbol of grandeur from Pink Kimberley, in the form of a statement ring or pendant, uniquely designed and luxuriously set. The unique cuts, designs and diamond colour range at Pink Kimberley makes for extensive styling opportunities. Additionally, this large range encourages you to insert your personality and uniqueness into styling these pieces. You can get creative and combine your existing diamond jewellery pieces to create a look that only belongs to you.
Select one of our striking diamond pendants, paired with a luxurious pair of drop earrings, to catch everyone's eye with unparalleled sparkle. Pair your current white diamond pieces with our Argyle pink diamonds to enhance their vibrant hues and stand out from the crowd. Pink Diamonds are the clear choice for special, sentimental pieces, with each stone one-of-a-kind. In a market overwhelmed by white diamonds which all bear a resemblance, Argyle pink diamonds are the perfect way to encapsulate your memories with their rare, valuable qualities.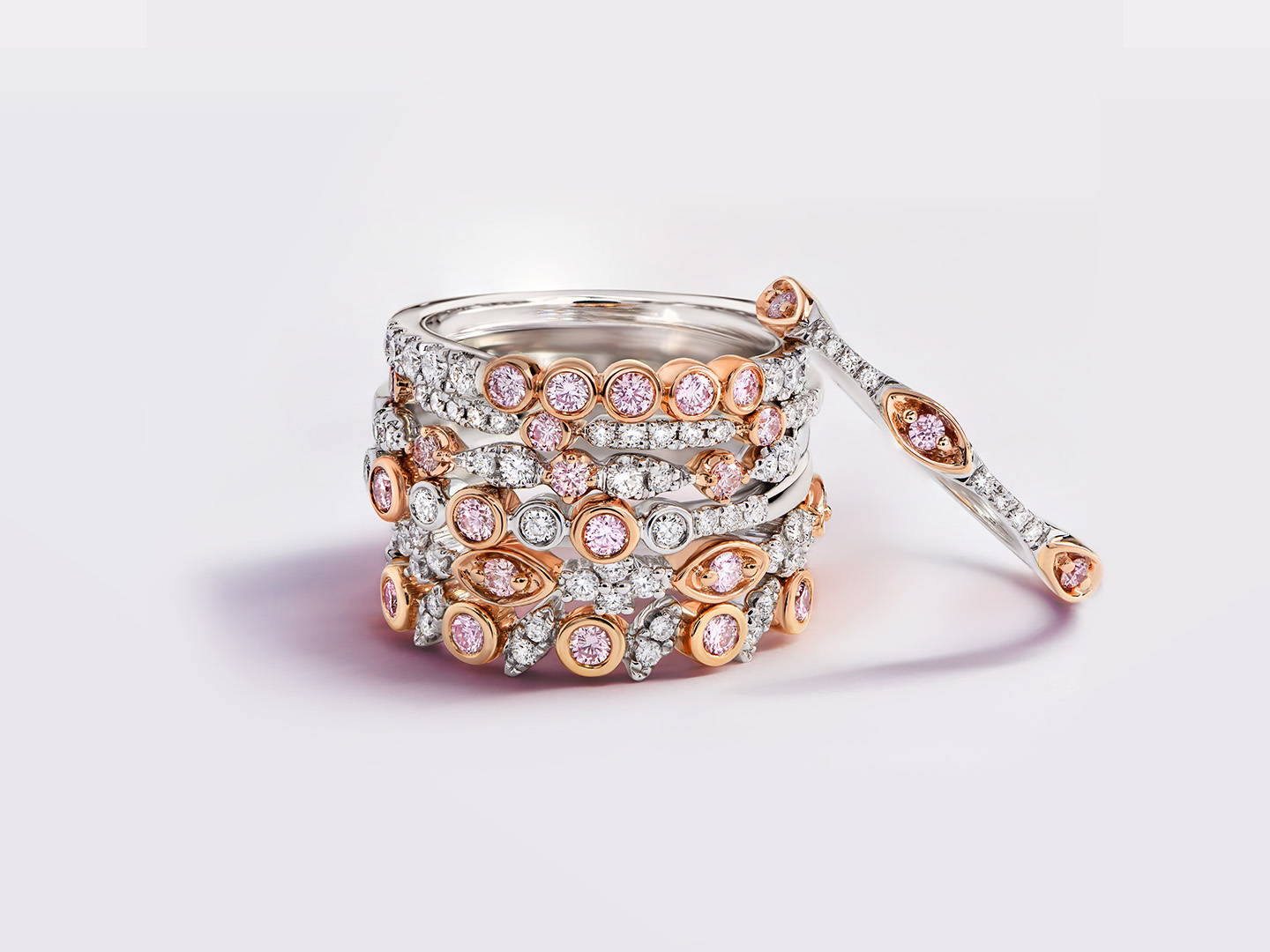 Styling multiple diamond rings
Pink diamond rings are breathtaking on their own, but they also make a great accent piece when paired with other jewellery. Whether you're looking to layer multiple studded rings on one hand or match your rings with your earrings and necklaces, you can always experiment with different pieces to create an appealing, eclectic style.
When styling multiple diamond rings, it's better to use rings with different settings and sizes to make them look like a set. If you have a penchant for coloured gemstones, breaking up the colour of your pieces may be helpful to make sure they complement your outfit instead of overpowering it.
Diamond rings are as versatile as it gets. Don't be afraid to combine your chunkier and thinner rings to make a bold impression. You can stack them on one finger for a more eye-catching look or slip each on different fingers for a more subtle look. Another refreshing alternative you can try to make the most of your pieces is wearing your diamond ring on your favourite chain as a necklace.
Mixing and matching different colours, shapes, and sizes of diamond jewellery

Are you just starting to add diamond jewellery to your daily wear? If that's the case, it may be a good idea to shop for pieces in the same metal colour because it's easier to coordinate your jewellery for different outfits and occasions. However, if you love to experiment with your style, you can always pair yellow, silver, or rose gold pieces to create a bold and edgy look.
Choose Pink Kimberley for excellent pink diamond jewellery

At Pink Kimberley, we set our Argyle pink diamonds in a wide array of designs to compliment any style. Handcrafted with unsurpassed mastery and skills in Australia, you can trust us to provide you with captivating jewellery pieces that stand the test of time. Browse our online catalogue and choose the perfect piece for your personal collection today, or book an appointment with our team to view our pink diamonds in person.