Pink Diamond Jewellery for Every Occasion
Pink diamonds are one of the world's most sought after and well-loved gemstones, and with good reason. Their vivid colour only enhances diamond's natural ability to refract and disperse light, leading to a truly unique aesthetic experience.
For those lucky enough to own one or several pieces of pink diamond jewellery, the challenge is often integrating them with your outfit. After all, such a special and uncommon stone deserves a considered approach. To that end, we've put together this short guide to styling your pink diamonds for different types of events, helping you match your stone to your outfit and the moment.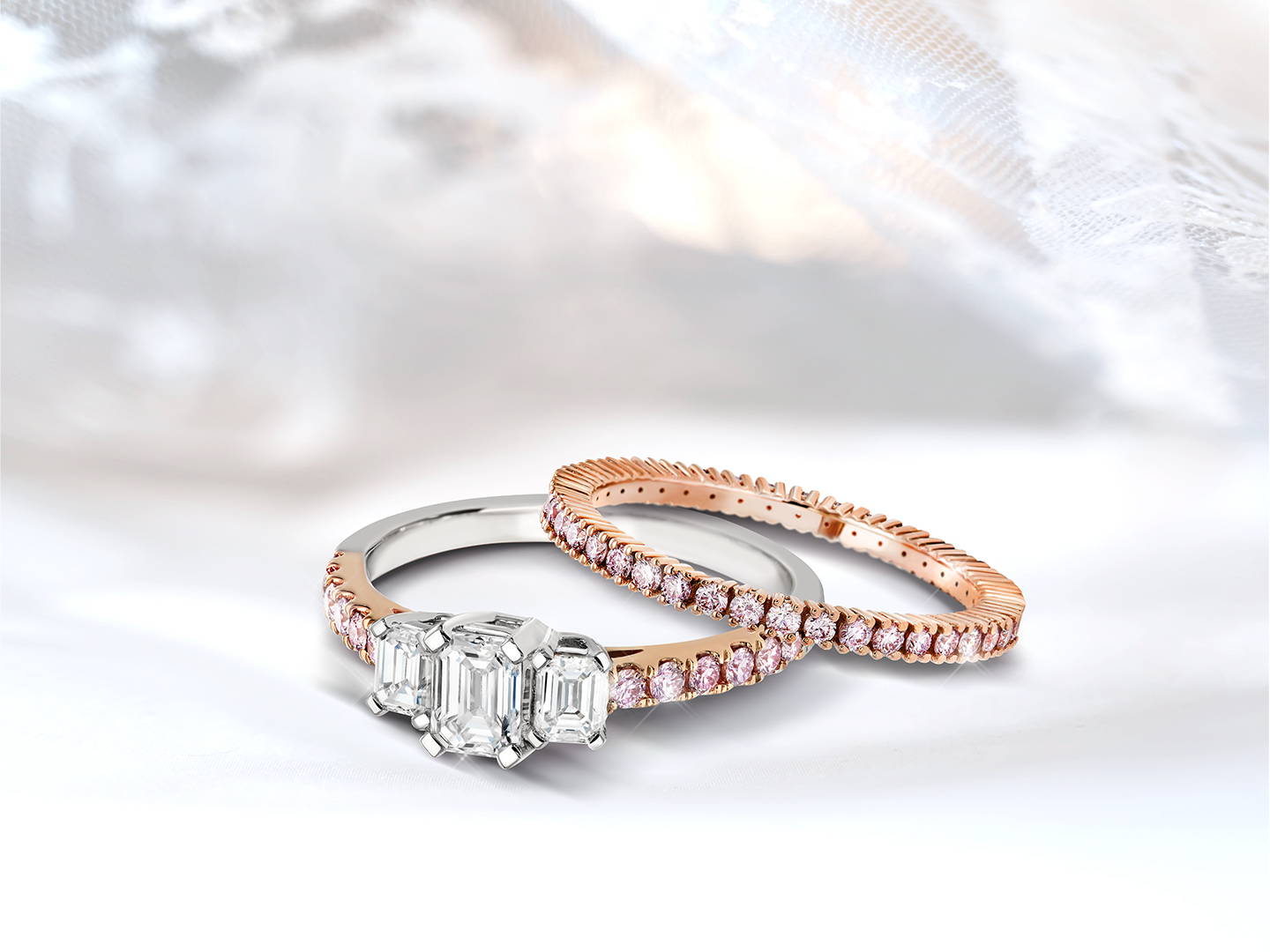 Weddings are meant to be celebrated, but as a guest always keep etiquette in mind. We all want to look our very best, but always remember that it's considered impolite to outshine the bride. That doesn't mean dressing down however – it just means being selective with your jewellery so you don't upstage her on her special day.
Statement pieces such as pink diamond necklaces can fit in perfectly here, adding a sense of luxury and occasion to the outfit. When chosen carefully, a pink diamond necklace has no need for bracelets or other jewellery – beyond perhaps a discrete pair of earrings – standing alone and lending a touch of sophistication to your outfit.
However, it's vital that you're mindful of how your necklace fits into your overall outfit. Most importantly, look for a necklace that fits comfortably with your dress' neckline. Too high a neckline with too long a necklace can crowd your statement piece, reducing its impact or even partially hide it from view. Our pendant necklaces hang roughly at collarbone height, giving you significant choice in your dress.
Birthdays, anniversaries and other parties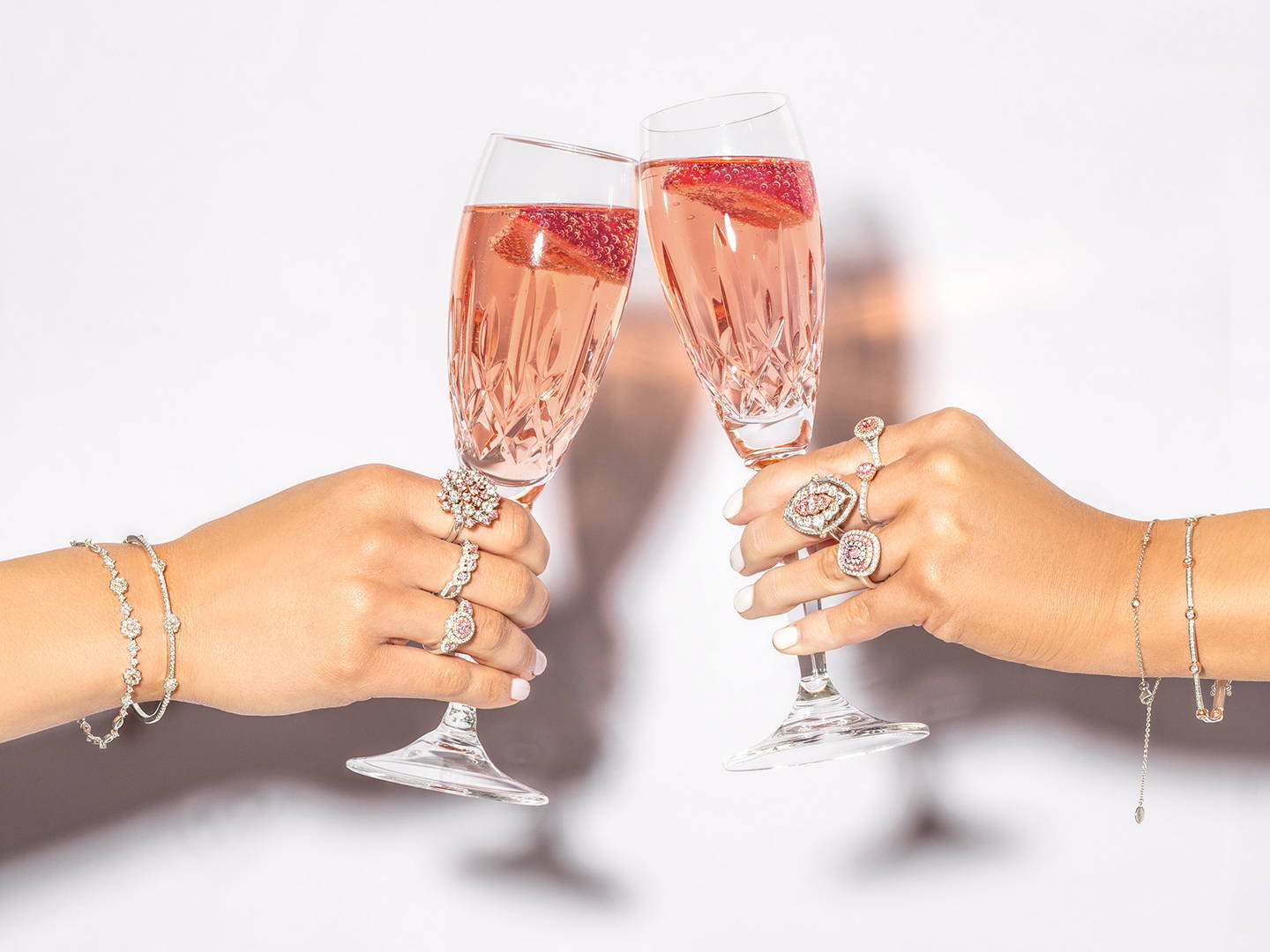 With no bride to upstage, it's here you can go all out. While statement pieces are always welcome at a party, it's important to remember that no one ever wants to come off as gaudy. Even when dressing to the nines, be mindful of how your different pieces of jewellery interact with each other and your outfit to create a whole.
They say necessity is the mother of invention, and that's as true for putting together a stunning outfit as it is anywhere else. Imposing some creative limitations on yourself can lead to a more harmonious and beautiful outfit. For example, consider focusing your jewellery on a particular area of the body – such as a statement ring supported by a bracelet – or committing to one statement piece with more subtle pieces in support. The golden rule is – as always – take a considered approach to your jewellery and it will reward you in return.
When it comes to office parties, meetings and client dinners, the golden rule is generally taken to be 'less is more'. A light touch when it comes to your jewellery, clothing and overall appearance is often taken as a mark of professionalism, but just because you're staying subtle doesn't mean you can't look beautiful.
Small, low profile pink diamond pieces such as delicate stud earrings or – for the happily married – a three-stone or halo ring can providing an elegant touch to any outfit, adding beauty without overshadowing either the rest of your appearance or from the moment.
Explore the Pink Kimberley collection of necklaces, rings and bracelets today and discover how easily you could add beauty to every day with a pink diamond.
Need assistance on picking something nice? Our stylists can help, book an appointment or have us call you back today: