The Different Diamond Cuts for Engagement Rings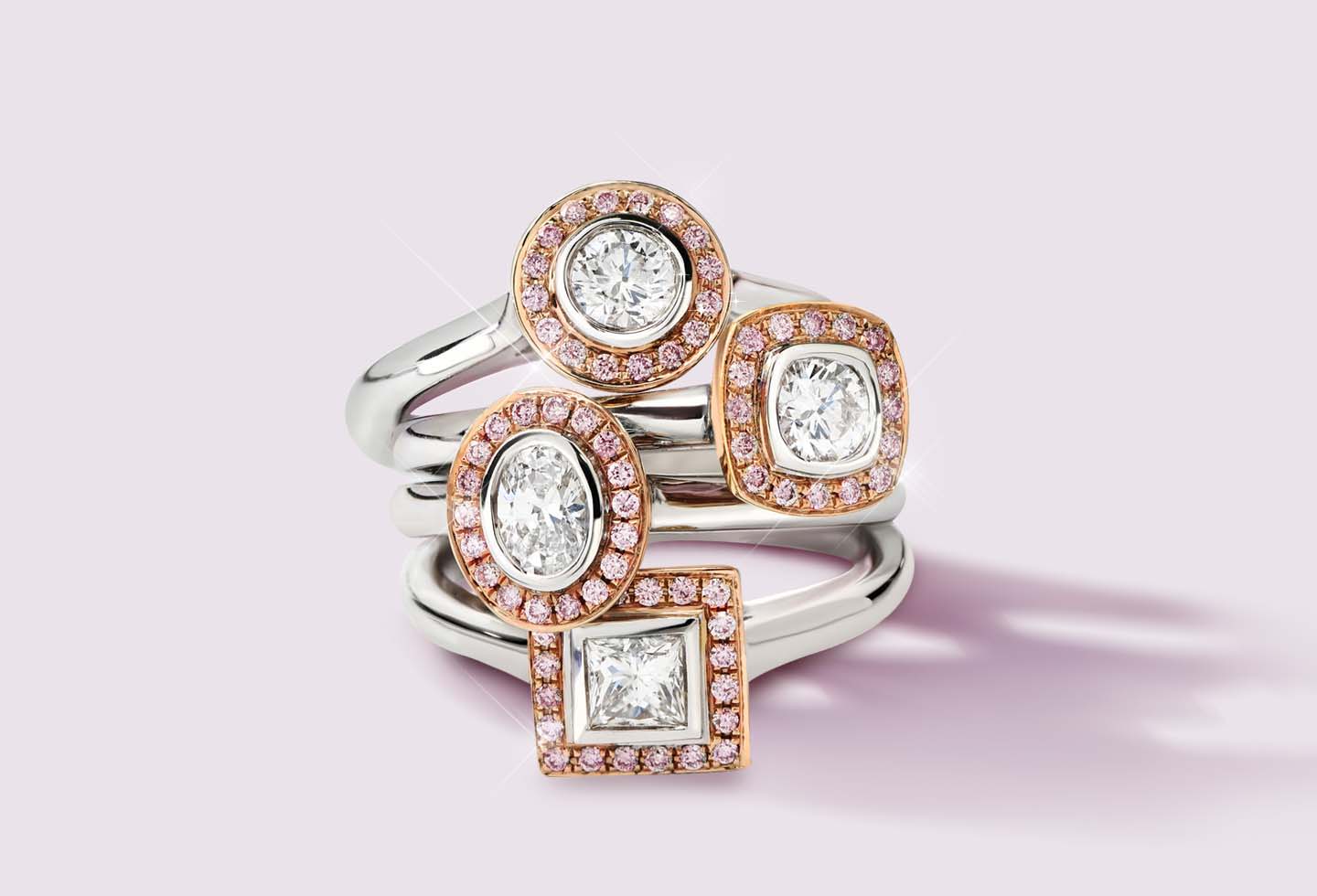 Making the decision to propose to your loved one requires a considered approach. You'll need to choose the right moment, the right words, and of course, the right ring. Of course, should you wish to surprise her with your proposal, this adds a delicate element. If this is the case, it's obvious that you cannot ask for her favourite diamond cut. No, this task requires a professional hand.
Enter Pink Kimberley. With years of experience in helping couples find their dream engagement ring, we have created a guide to help you make the correct choice. It is our intention for you to be as confident in your ring selection as you are with spending the rest of your life with your loved one. And just as important, you want to present her with a ring that will transport her back to that fairytale moment every time she glances down at her hand.


What are the different diamond ring shapes?

Below are the most popular diamond ring shapes that we offer at Pink Kimberley.
1. The Round Brilliant Cut
The hallmark of the classic engagement ring, a round brilliant diamond is undoubtedly the most popular and iconic of all shapes. Consisting of 58 facets, the colour and inclusions on a round brilliant are stronger than in all other fancy shapes. For brides who appreciate a timeless silhouette, these shapes really are unrivalled.
Our recommendations:
Pink Kimberley Rosala Ring
Argyle Pink Diamond Round 6PR S12
2. The Cushion Cut
Resembling a dainty pillow, the cushion cut diamond ring features rounded corners. While they feature generally less brilliance than round brilliant diamonds, cushions do produce more fire. With 64 facets, these shapes are known for their enticing vintage charm. If you like the look of a princess cut but want something softer, a cushion cut is perfectly suited to you.
Our recommendation: 
Pink Kimberley Shannara Ring
Argyle Pink Diamond Cushion 4p SI2
3. The Radiant Cut
Marketed as an alternative to the round brilliant cut diamond, the princess cut is now one of the most popular shapes. For the modern and contemporary bride who appreciates clean and streamlined designs, this cut is perfect. With its understated elegance, the radiant cut is held by four claws and is the more efficient, affordable choice in comparison to the round brilliant cut.
Our recommendations:
Pink Kimberley Endarri Ring
Argyle pink Diamond Radiant 7PR SI1
4. The Pear Cut
Romantic and unusual, the pear cut is known for its high sparkle. Shaped like a teardrop, this shape blends the best of a marquise and round cut. Due to its length and pointed end, it has the ability to make any finger look thinner and longer. Juxtaposing its feminine curves with a sharp point, the pear cut is undeniably classic and stylish.
Our recommendations:
Pink Kimberley Classic Lady Halo Ring
Argyle Pink Diamond Pear 4PP VVS1
5. The Heart Cut
As the name suggests, this diamond cut is shaped like a heart. As the ultimate symbol of love and romance, this unusual and fancy cut contains 56-58 facets that perfectly capture and reflect the light. The result? Visible brilliance that will be admired for years to come.
Our recommendation:
Argyle Pink Diamond Heart 3PR S12
6. The Oval Cut
A favourite for brides, second only to the round brilliant, an oval cut diamond is the epitome of brilliance, durability and style. Not only do they elongate the finger but they are less prone to chipping due to their lack of sharp angles and corners. For brides who admire the look of a round diamond but want something more unique, an oval cut is ideal.
Argyle Pink Diamond Oval 5P SIAV 0.09ct
Style tip: Each of these diamond cuts can look striking on their own or surrounded by smaller diamonds in a halo style.
Say it with a pink diamond engagement ring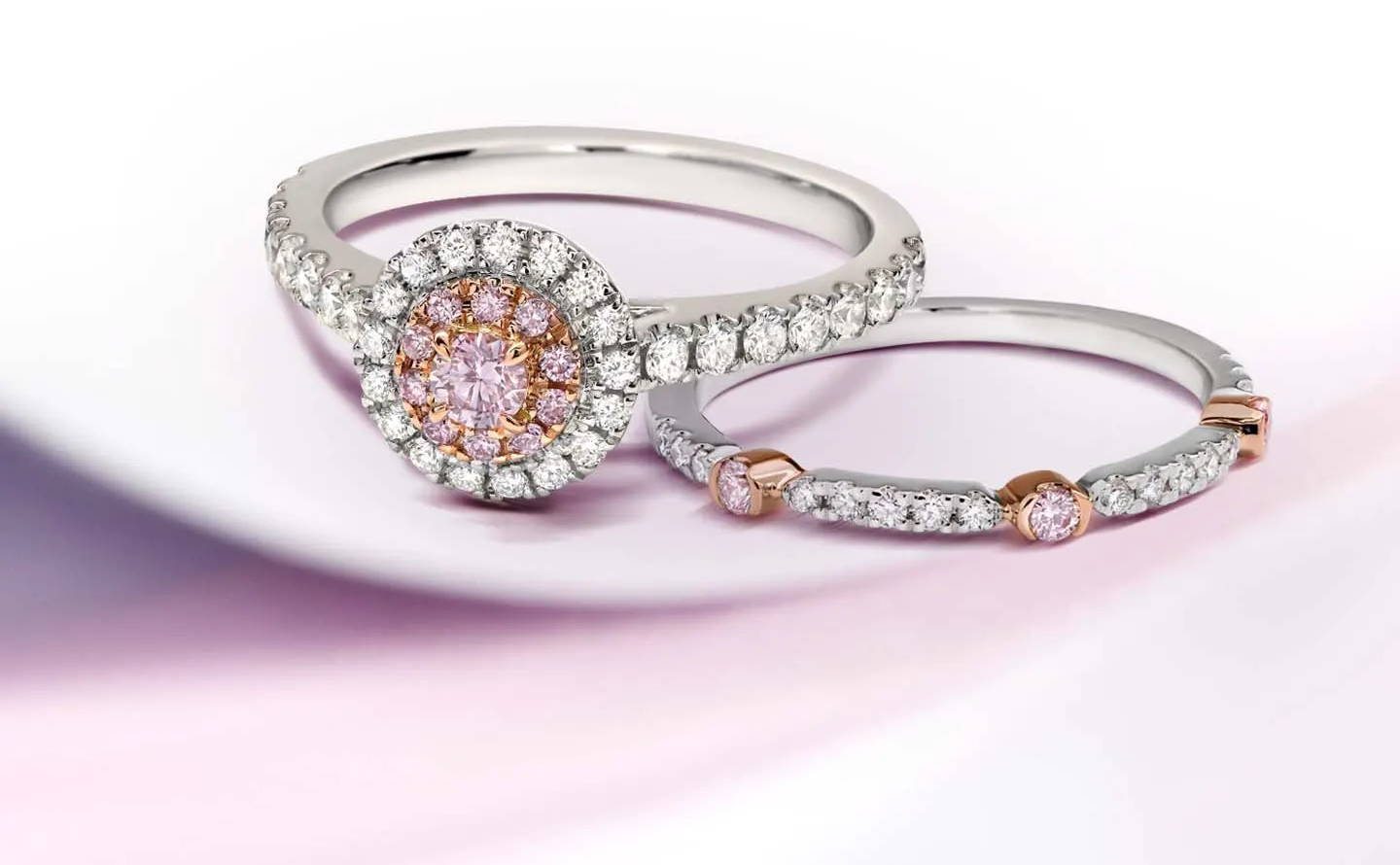 Is this the year you propose to your loved one? Why not say it with a Pink Kimberley pink diamond engagement ring?
We have a beautiful selection of pieces that will immortalise your special moment forever. Capturing the love, commitment, and future memories in every cut, our pink diamond engagement rings are sure to have her falling in love with you all over again.
We invite you to browse our collection today. If you have any questions about our pieces, please reach out to us and we will offer professional and personalised advice.