Argyle Authenticity - What To Look Out For
Argyle Gem Identification and Authenticity Document - "The Argyle Certificate"
An Argyle gem identification and authenticity document is provided with all Argyle diamonds that weigh over 0.08 cts and these can be verified on the Argyle Diamond website for all diamonds issued from 1st January 2009.
As a further security measure, Argyle moved to laser inscribing the girdle of all polished pink diamonds from late 2004. They began with the diamonds weighing greater than 0.20 ct and then from January 2009 it was expanded to include diamonds weighing greater than 0.08 cts. The laser inscription is a unique lot number that is only visible under magnification, a mark of its unique provenance, its sustainability and its guardianship. Many Argyle diamonds also carry grading from the Gemological Institute of America (GIA), a separate and independent grade associated with each stone.
When purchasing an Argyle pink diamond, the Argyle certificate is a must. It is the only document that is trusted worldwide and can insure that your pink diamond is of Argyle origin. The secondary security measure would be the ID No. that is laser inscribed on the girdle of your pink diamond.
To check the authenticity of your diamond by your ID number, please visit the Argyle Pink Diamond website by clicking here.
Pink Kimberley Authenticity Card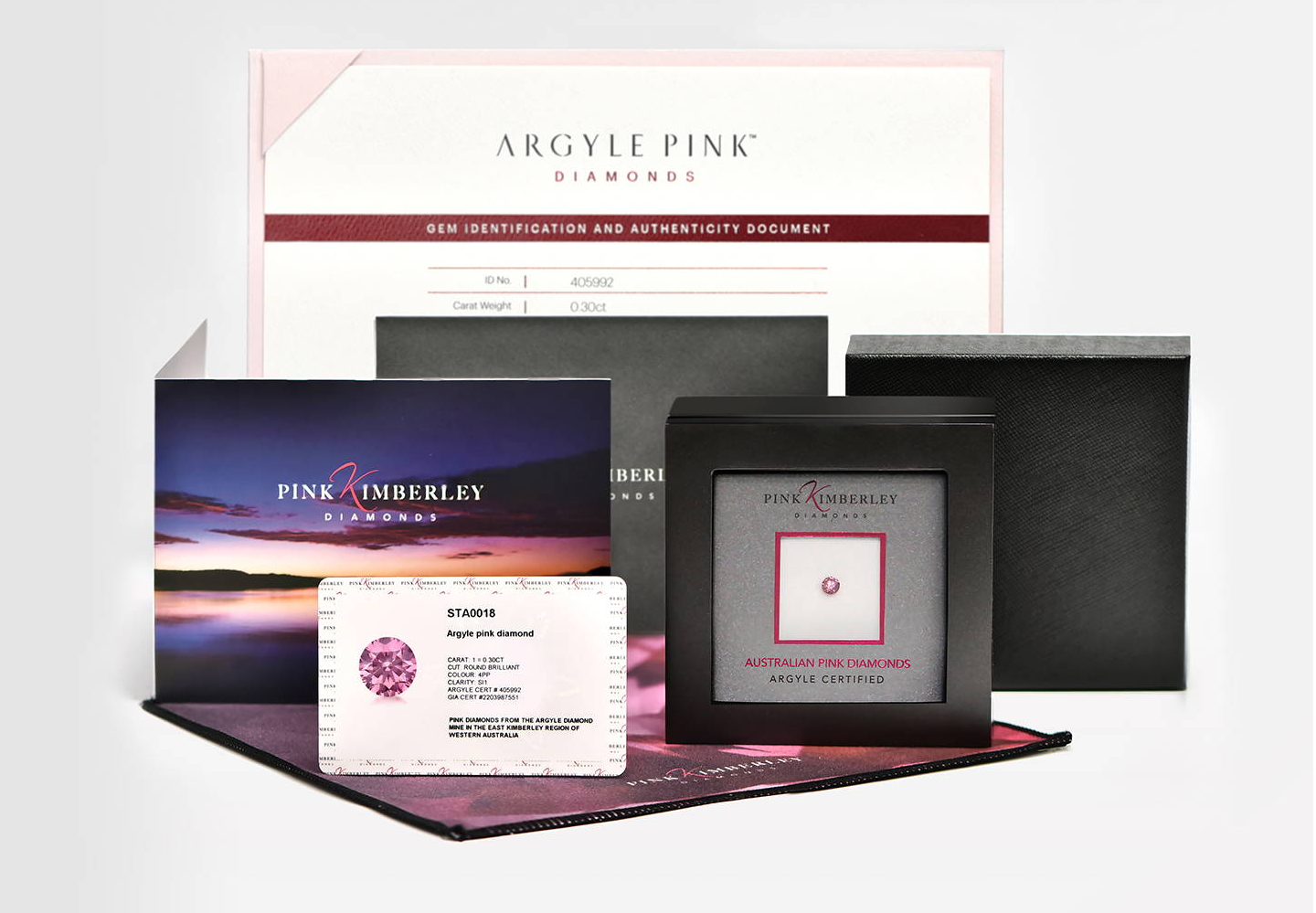 Each piece of Pink Kimberley jewellery comes with an official Certificate of Authenticity. It features an image of the jewellery along with the design number plus a list of the diamonds including details with weight, shape and diamond colour grade.
All of our Pink Kimberley certificate cards are printed just for your piece of jewellery upon order.
Browser our stunning Pink Diamond collections including engagement rings, pendants, bracelets and earrings. 
You may like our beautiful blue, blush pink and pink champagne argyle diamond collections.